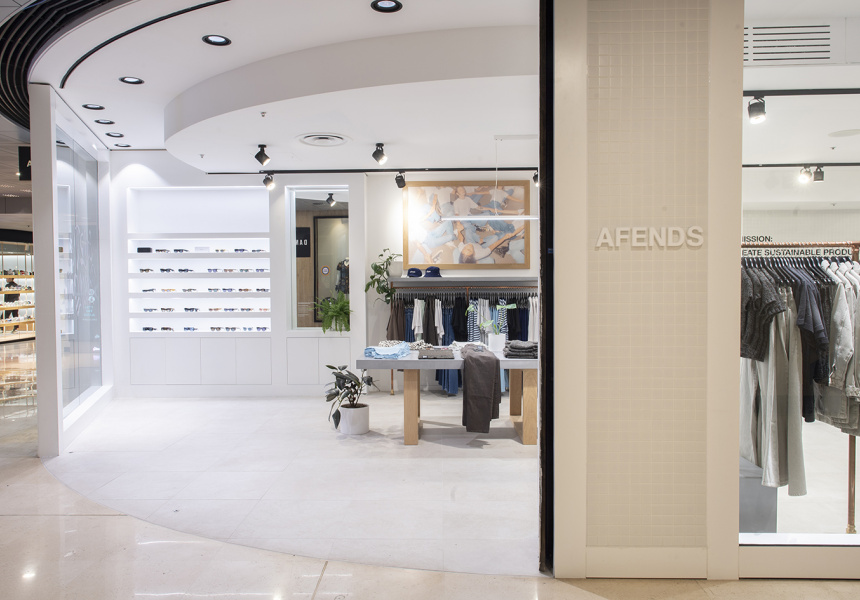 Sustainable fashion brand Afends opens its first stores in Sydney – one in the Galleries and the other in Newtown
Afends, the Byron Bay-born brand that has helped lead the way in sustainable fashion design since 2006, has opened its first stores in Sydney – one in Newtown and one at The Galleries in the CBD. Both stores are a testament to the brand's streetwear aesthetic and eco-ethics.
"The brand has such a loyal following in Sydney," said Declan Wise, who co-founded Afends with business partner Jonathan Salfield. Large format. "We wanted to give our consumers creative and cool stores that they can visit to experience the brand and see it in action."
Afends opened its first store in Byron Bay in 2009 and now has seven stores across Australia, with big plans to go global and spread Wise and Salfield's message of positive change.
Large format access members get special tables at popular restaurants, tickets to exclusive events, and discounts on food, coffee, branded deals and more.
Learn more
Prioritizing what is good for the environment while designing quality clothing is at the heart of the brand's philosophy. Every Afends garment is made from 100% sustainable fibres, including its main material, hemp.
"What kicked us off was hemp. It was in 2014 that we decided to make hemp swim shorts. We started to understand the different benefits that hemp could bring," says Wise.
After several years of research into water-efficient and pesticide-free cultivation, Afends now owns 100 acres of farmland. The intention is to build his own hemp processing plant and see his products grow from "seed" stage to fully realized garments.
Newtown and Galleries stores are fully stocked with the new season's spring collection, including laser-etched hemp denim; digitally printed recycled nylon anoraks and quilted fabric accessories such as scarves, bags and caps; organic chunky knits in earthy hues; and recycled floral knitwear. They also offer the brand's new range of graphic tees and corduroy pieces, made in collaboration with NSW-based visual artist Lee McConnell.
Wise and Salfield wanted the Galeries and Newtown stores to each have a point of difference, while sticking to minimalist designs that let the products do the talking. The galleries are open-air and well-lit, with colorful clothing on copper racks and displayed on solid concrete.
"Newtown," says Salfield, "is more of an alternative artsy vibe. And in about five years, when we [might] giving stores a new updated vibe, furniture and fittings can be reused rather than going to landfill.
The eco-friendly ethos even extends to the packaging – there's no single-use plastic and only recyclable brown paper bags at checkout.
Afends Galleries
The Galleries, 500 George Street, Sydney
Hours:
Every day from 10 a.m. to 6 p.m.
Afend Newtown
318 King Street, Newtown
Hours:
Every day from 10 a.m. to 6 p.m.
afends.com
@afends