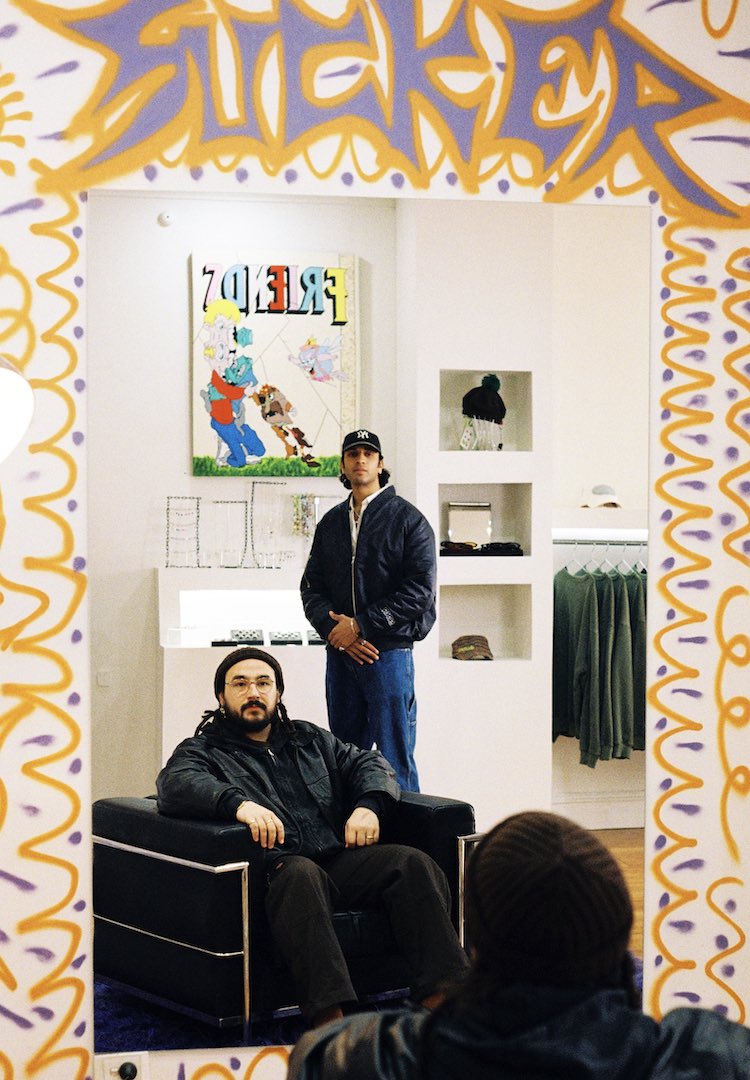 Sucker is Melbourne's fashion destination championing local creatives
"I love hearing designers tell us that they've quit their jobs and are into design! It is an absolute privilege to be able to provide a platform to help make this happen.
Ben Tambyah, co-founder of Melbourne's fashion destination Suction cup, has always been passionate about training young creatives. After launching a publication and then an art gallery with this as its founding philosophy, a pandemic-induced pivot led to a rebranding.
The art gallery has been transformed into a pop-up store full of young local designers. But Ben and his co-founder, Aden McLeod, quickly realized it would be more than just a pop-up store.
---
Check out other up-and-coming local designers in our Fashion section.
---
As Ben explains, "The reality is that we did everything we could to build this store to the point that it wasn't going to be a pop-up. For us at the time, learning the ropes and understanding a new industry was more viable in the long run than continuing to do art exhibitions in such an unpredictable climate."
Now, several years later, the duo have created a thriving physical and online store that has become known for providing emerging local designers with a much-needed launch pad into the industry. Below, they tell us how Sucker got to where it is today and what contributed to their success.
Tell us about you. What is your background in fashion?
Well: My name is Ben Tambyah and together with Sucker I was born and raised in Wollongong, New South Wales. Growing up, I tried to keep my head down in school while nurturing a passion and love for the community. Shortly after high school (2015), after becoming close friends with a talented designer called Ruby Hough, she and I started a post called magazine sucker which would document the region's emerging creators and characters.
It featured a number of curated editorials and photoshoots that I would produce and she would create. The South Coast was a great place to spawn something like this as there wasn't much of a market for it, but a massive community of young people supporting each other.
I met my great friend and now co-owner of Sucker, Aden McLeod, asking him to shoot an editorial for one of our zines. He grew up on the road in a small coastal town called Kiama. Aden's experience is in photo, video and media.
I remember running into him every two weeks at the local spot, Rad Bar, and he was there filming the bands playing. We both never really had any fashion experience; we just had an experiment that would eventually be used in the industry.
How did the store get started? Tell us about the process and the challenges.
B: After reuniting in Melbourne a few years later, Aden, myself and a few others sat around a table in a backyard in Coburg to talk about our dreams and lament the future of the industry. creative, until we decided to try and do something about it. .
We opened a space in 2018 which has seen artists like Jack Irvine, Doug Bennett and Yasmin Suteja curate art exhibitions which would be our boost in the Melbourne community. This paved the way for us to open an art gallery in Northcote at 420 High Street. If you know, you know! The place has hosted many first artist exhibitions and many good times.
When COVID-19 emerged, we considered our options as we could no longer hold exhibitions. The plan was to open a pop-up store as a COVID-forced backup for the gallery. Luca Seresin-Staig joined the team and played a vital role in opening the store. The reality is that we did everything we could to build this store to the point that it wasn't going to be a pop-up.
For us at the time, learning the ropes and understanding a new industry was more viable in the long run than continuing to do art exhibitions in such an unpredictable climate. Here we are today, too deeply and in love with our new adventure in the world of fashion. When we want we can.
What were you trying to achieve from the project at the time? How has that evolved and what are you trying to communicate through the store now?
B: Our only goal was to create a platform for local creators and for us no matter what direction it took us. We see so many similarities in how we run Sucker as a boutique back when it was an art gallery. It's about the intent of the brand we're trying to make and the people we're trying to uplift. Melbourne is full of amazing artists and designers and it's humbling to think we can play a part in their future.
It is a blessing to think of all that we have learned over the past 18 months. Each of us has put our heart and soul into studying the industry, the community, the market, and developing the skills needed to run a successful fashion business.
We want Sucker to make a difference by providing opportunities for independent brands, emerging designers and fashion school graduates who are planning to establish their work. We hope that each relationship will be meaningful and have a positive impact on people's future plans. If our designers reach their highest potential, it allows us to do the same.
How would you describe Sucker to someone who has never seen it or been there before?
B: A platform for independent designers from Australia. Young creatives supporting other young creatives.
Where does the name come from?
B: About seven years ago, when we launched the magazine, Ruby and I were driving around doing nothing. I think I saw someone tripping and I said "Sucker!" and Ruby thought it would work just fine.
What are you most proud of in your work at the store?
B: Putting us in that position where I can work alongside Aden and learn from Aden every day as we try to build the best store in the world. Personally, Sucker has been my number one priority for a bunch of years, and now it finally allows me to have other priorities. It creates more opportunities and that's something I'm really proud of and grateful for.
Eden: Being able to do cool shit every day with my partner Nicole and my great friend Ben! It is a dream to create, design and collaborate within our team and the community. I love to hear when designers tell us that they quit their job and are into design! It is an absolute privilege to be able to provide a platform to help make this happen.
What did you wish you had known when you started?
B: It doesn't matter what other people think of the decisions you make, it's where those decisions take you that's important.
A: Not much more than we did. I feel like we are learning and growing with the store, which has gotten it to where we are now. If we knew something more/different, maybe the shop wouldn't be what it is today.
Who do you think is the most exciting in fashion right now?
B: Stella Vendetta, Emily Watson, Wackie Ju, Love Manifesto, Pure Obsession and Sean Brown, if we're talking about exciting.
A: DOCG, DocGirl, Love Manifesto, Heaven, Salehe Bembury, Sean Brown and Hello Sisi.
What about the fashion industry that needs to change?
B and A: Not much change, but we believe that when it comes to brands, their products and their marketing, the movement towards inclusivity is far from over. It's great to see the emphasis on this in the region. We like to think Melbourne is at the forefront of promoting inclusivity, but there's still a long way to go. We are still learning too.
Dream Australian collaborators/brands to store or work with?
B: I look up Nathalie Scarlette and Georgia Haynes a little; these guys do an amazing job in terms of creative production. In my opinion, they are pioneers in their own departments and people I would like to learn from.
A: To be honest, I like our team. Every day I learn so much from Ben, Nicole, Hansika and Kat and I'm always happy to hear their ideas, so I'm very happy to be working with them right now.
As a team, we would like to re-establish our connection with local artists. We miss the gallery days and have started working on ways to implement some aspects of it in our business.
How can we buy from Sucker?
B and A: For everyone in Melbourne, we are open six days a week, Monday to Saturday! We are located at 438 Sydney Road, Brunswick. For all others, you can consult us online at shopper.com. New releases from our range of Australia-based designers are released every Wednesday.
Anything else to add?
B and A: From our team to you, thank you for your continued support over the years! From OGs to new friends, you give us the opportunity to live our dreams, so thank you! Continue to support emerging creations!
You can follow Sucker here.